Jim Murray is a legend and leading player on the world's whisky stage. It is now over 25 years since he became the world's first-ever full time whisky writer. And this 2020 edition of his Whisky Bible marks the 17th year of annual publication.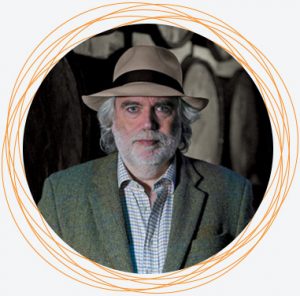 Jim Murray - the Trailblazer
Jim Murray has long been a trailblazer. He has been a professional writer his entire career – he even earned money as a sports reporter while still at school – and in 1992 gave up his life as a Fleet Street national newspaper journalist to become the world's first full time whisky writer. That was in the days before whisky shows, whisky tourism, whisky magazines and whiskymania. Having visited his first distillery in 1975 he had spent 17 years learning all he could about the subject before boldly going where no writer had gone before.
Whisky Book Writer of The Year
By this time Jim Murray had already won a number of awards for his writing, including Whisky Writer of the Year in each of the three years he was entered, his work for the Sunday Telegraph, The Observer and The Scotsman coming up gold. Jim then wrote his first whisky book in 1994, entitled Jim Murray's Irish Whisky Almanac. And several more followed before the end of the century including Jim Murray's Complete Book of Whisk; The Art of Whisky; Classic Bourbon Tennessee and Rye; Classic Blended Scotch and Classic Irish Whiskey – together selling hundreds of thousands of copies.
In 2003 Jim Murray trail-blazed again when he created, designed and wrote Jim Murray's Whisky Bible, the first ever annual guide to every new whisky produced in the world. Since then it has appeared every year and is homing in 20,000 different whiskies tasted and 1 million copies sold worldwide. Jim Murray owns the publishing company responsible for the Whisky Bible, so he can control all aspects of its publication, and ensures its independence. And his awards for World Whisky of the Year has been known to change the face and received wisdom of the whisky industry. His publishing company, Dram Good Books, is based in Northamptonshire, England and Kentucky, USA.
Educating Whisky Distilleries
When Jim Murray is not spending his three to four months whisky tasting and evaluating 1,200 whiskies a year for the next edition of the Whisky Bible, he can be seen in all corners of the world training blenders and other industry professionals as well as advising or trouble shooting at distilleries. His consultancy work now takes up many months of each year, but Jim especially enjoys this as it means he retains a close link with and insight into the production of whisky worldwide.
Heighten Your Whisky Experience
The other aspect Jim Murray thoroughly enjoys is meeting whisky lovers and learning from them, changing tastes and trends from all over the world. Usually this happens after Jim has conducted one of his legendary Whisky Tastings, be they corporate or general, and which are nearly always held blind so that his audience cannot be swayed by pre-conceived beliefs. Jim also uses these tastings to show people how to maximise their whisky experience by incorporating the famous Murray Method, which he devised over a ten year period in the 1980s.